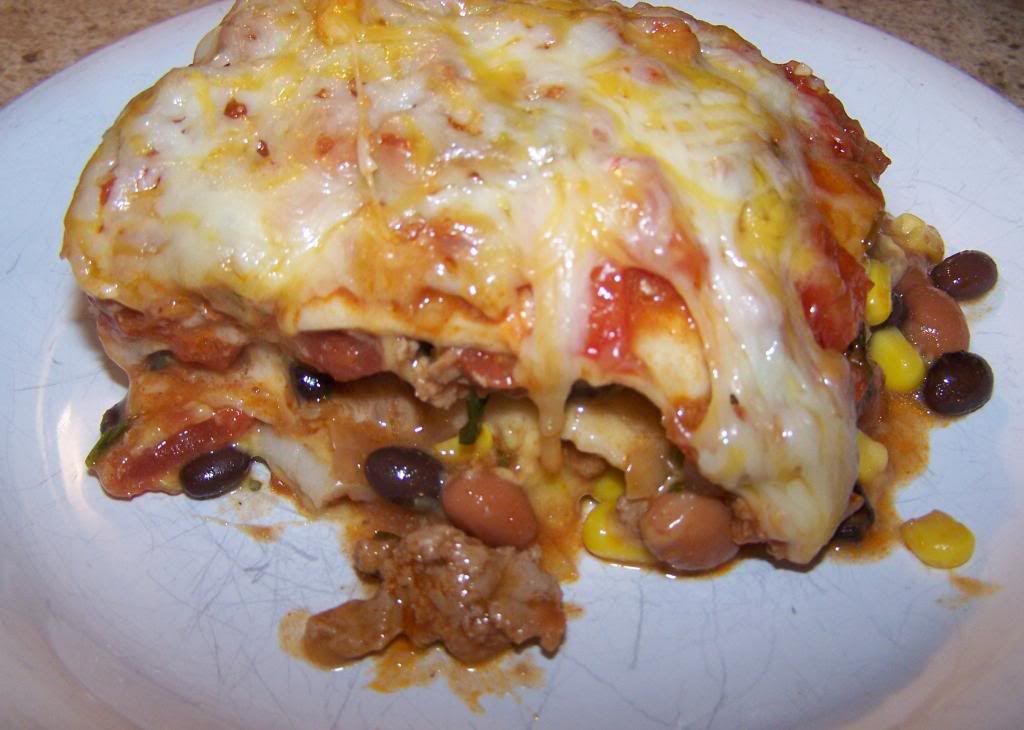 The Holidays are finally over and I am able to slow down a bit. It's been a very busy last 2 months. My crafting has pretty much come to a hault but I can't wait to start creating again. In the meantime I have tried out a few new recipes and I thought I would at least share those with you all.
So here we go. First up, Mexican Lasagna.
I found this recipe over at
Sugar & Spice
and added my own touches to it.
What you will need:
Sauce:
1 TBS. olive oil
1 onion; diced
1 red bell pepper chopped and diced
1 small can green chiles
3 TBS. fresh green cilantro chopped
2 can diced tomatoes
1 TBS ketchup
1 cup water
1 package taco seasoning
1 lb. ground turkey
salt & pepper to taste
Filling:
1 can black beans drained and rinsed
1 can pinto beans drained and rinsed
1 can of corn drained
2 cups Mexican blend cheese
Other things needed:
Flour tortilla shells
1 1/2 to 2 cups Mexican blend cheese
13x9 baking dish
Pam spray
Preheat your oven to 400 degrees. Spray your cooking dish with Pam to prevent sticking. Heat olive oil in pan. Add in your ground turkey and cook through. Add taco seasoning, bell pepper, onion, water and chiles to pan. Let simmer for a few minutes. Dump your tomatoes in and let simmer for about 10 minutes. While that is cooking, get to work on your filling mix. In a bowl, combine the black beans, pinto beans, corn and the cheese. Mix them together well.
Head back over to the sauce. Once you have let it simmer for awhile, remove from heat and mix in your cilantro.
Now lets start stacking your layers.
Start with a ladle full of the sauce in the bottom of the pan. Cover that with tortillas. I ripped some up to cover the empty spots. Do another layer of the sauce (about 1/3 of it). On top of that, do half of the filling mix. Add another layer of the tortillas. Keep going until you reach the top. Once you hit the top layer, put the last remaining 1/3 of the sauce on top.
Place lasagna in the oven and bake for about 30 minutes. After 25 minutes, top the lasagna with cheese. Place back in oven until the cheese melts then remove.
Let the lasagna sit in the pan for 10 minutes before cutting so that it doesn't fall apart on you.